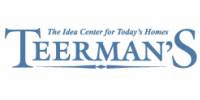 Your cart is currently empty
Bestsellers
No Items In This Category
Electronics Repair
Electronics Repair at Teerman's
Our electronics technicians are skilled at repairing nearly any type of electronics equipment, whether we sold it or not. We can fix CRT, LCD and plasma televisions, radios, DVD players,VCRs, home theater systems, speakers, and telephones. We occasionally tackle record players and antique radios.
Pick-up and delivery is available but if you can bring it in, repairs can begin sooner.
Teerman's Electronics Repair is an authorized warranty service center for Panasonic, Sharp, Toshiba and many more.
Teerman's Electronics also has thousands of service manuals and schematics in stock and available for purchase.
Click here
and provide us the make, model and description. If a service manual is available, you'll be able to purchase from our on-line store and download a pdf from your on-line account.