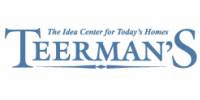 Your cart is currently empty
About Teerman's
The Idea Center for Today's Homes
Teerman's has been a favorite shopping destination for discerning homeowners since postage stamps cost three cents apiece (1941). The store is still owned and managed by the Teerman family, but it sure has changed over the decades. Our new brick and stone storefront helps us fit right into the "Dutch Village" motif that makes downtown Holland a shopping and tourist destination. At today's Teerman's, you'll find the latest home products tastefully displayed throughout our big bright store. We call our store The Idea Center for Today's Homes.
Here's why!
1000 clocks in stock
Many brands of indoor/outdoor furniture pieces from casual to formal
Aisles and aisles of home decorating products
Hundreds of kitchen gadgets and hi-tech appliances
You deserve this kind of service!
You'll love our friendly, laid back atmosphere. But don't think we won't take you seriously. Our knowledgeable associates are dedicated to offering you an extraordinary level of personal service. Here are a few examples.
Free gift-wrapping
Delivery throughout Michigan and Chicagoland
Layaway available
Free parking in front and behind the store