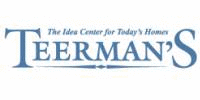 Your cart is currently empty
Bestsellers
No Items In This Category
Electronics
Electronics at Teerman's
While not our largest department, our electronics area features a great selection of the most popular products today. You'll find the latest plasma TV's - from color TV's and video players you can carry in your pocket to big screens you can hang on your wall or serve as the centerpiece of your home theater room. Want a big sound in a small space? Tivoli radio/CD/MP3 players are hot sellers. And you'll find replacement telephones, headphones, home theater sound systems, and a whole lot more.
What can Teerman's offer that the "big box" stores can't?
Knowledgeable sales associates
In-store Repair Center
Free extended warranties
Same pricing as the chain stores - guaranteed!
Refine Search