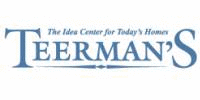 Your cart is currently empty
A Michigan Oven Mitt makes a great gift for any Michigan Lover. It features the Lower Peninsula on the front and the Upper Peninsula on the back.
Shown in Red, but only currently availabe in Royal Blue.
I live in Ironwood Mi and saw this oven mitt. I almost bought it because a lot of times there is the lower peninsula and not the upper on most items. I did not buy this mitt because Ironwood was spelled as two words, which is incorrect.