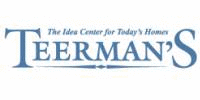 Your cart is currently empty
Gift Registry Search
Why set up your bridal registry at Teerman's?
You'll find some of the nicest things for your home online and in the store at Teerman's!
You get 10% off everything on anything in your registry for a full year from the date you start it.
Your guests get 10% off every purchase they make from your registry up to the date of your wedding.
Free gift-wrapping.
Free delivery of gifts to local reception.
Create your Bridal Registry
To create your registry, go to the My Account page. Set up an account (or login to an existing account), then go to our online store. When you find something you like, just click 'Add to Registry' on the product detail page.
To update your registry, login to the My Account page and click the 'Registry' tab.
Looking for a Bridal Registry?
Enter as much information as possible to search for a registry event. Registrant's first name and at least the first two letters of their last name are required. (Results will show at the bottom of the screen)